You Probably Know These 5 Popular Nigeria Footballers By Their Nicknames And Not Their Real Names
You are most likely familiar with these very popular nicknames of some of your favorite Nigerian footballers. The Bull, Gentle Giant, Barb Wire, Mathematical, Agha-Wonder, Thunder, Okada, Elastic, and Jay Jay
Footballers are often given nicknames - in his heyday, Etim Esin earned the moniker African Maradona which means the golden boy. Even Cristiano Ronaldo's was cool, often being labeled The Sultan of the Stepover by the press.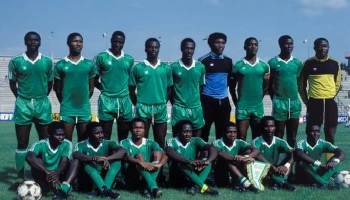 Nicknames have always been that favorable, as the writer can happily testify. Here are FIVE Nigerian footballers that have been given some interesting handles.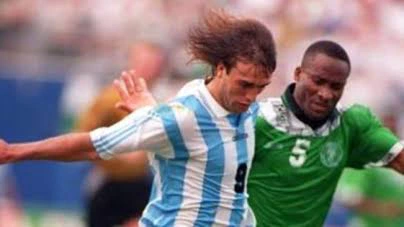 1. Stephen Keshi - Big Boss
Big Boss had the leadership quality and tenacity to move his team forward. He was a commander in all the clubs he played for. He had the vision and ability to initiate attack moving every lieutenant in the rear along. Nigeria's longest ever serving skipper, late Stephen Keshi is revered among Nigerian supporters.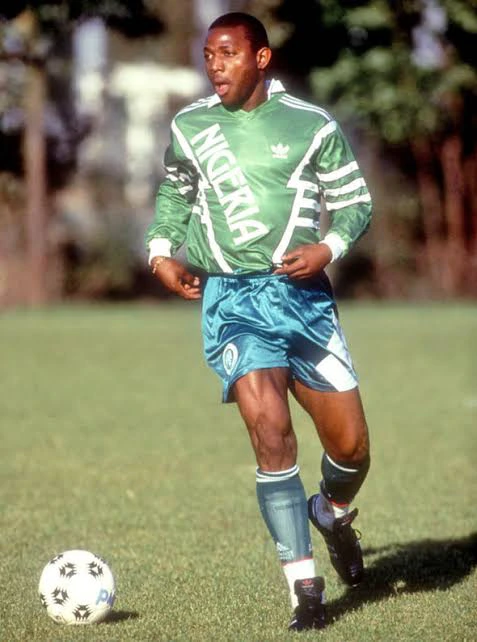 He featured at four Africa Cup of Nations tournaments - collecting a winners' medal in 1984 - and the 1994 World Cup in the USA. Following stints in charge of Mali and Togo, the Nigerian Football Association appointed Keshi as their head coach in 2012.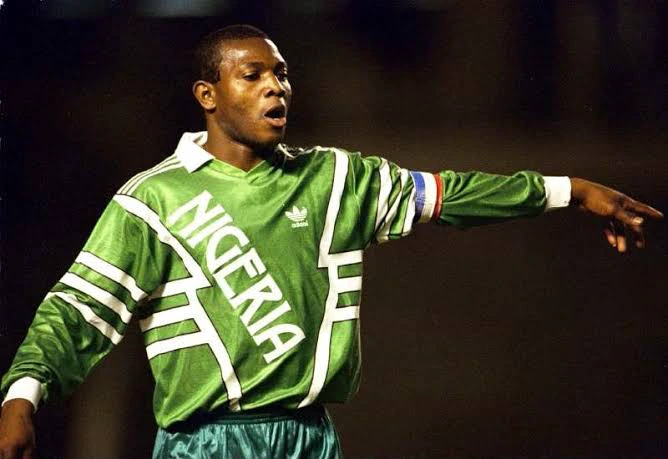 He made an almost instant impact, leading the Super Eagles to the 2013 Africa Cup of Nations. During his playing career, the center-back also opened up the path for his fellow countrymen to move to Europe when he switched to Belgian side Lokeren in 1986 before he represented Anderlecht and Strasbourg.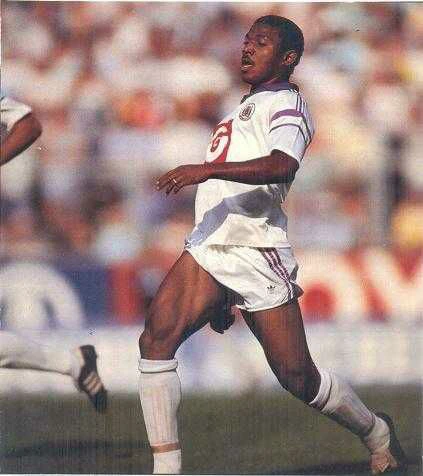 2. Etim Esin - African Maradona
This nickname was given to the Super Brat by legendary commentator Ernest Okonkwo due to the ways Etim Esin embarrassed opponents and delivered the goods. That translates as the wonder child.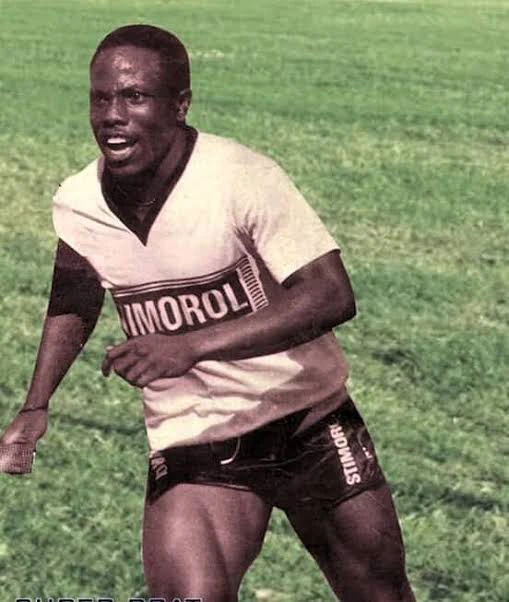 He was given that nickname because as a kid he loved being the playmaker like Argentine legend Diego Maradona. Esin's stature, pace, and dynamic abilities earned him rave reviews. The name has stuck ever since but he failed to fulfill the prophecy due to youthful exuberance.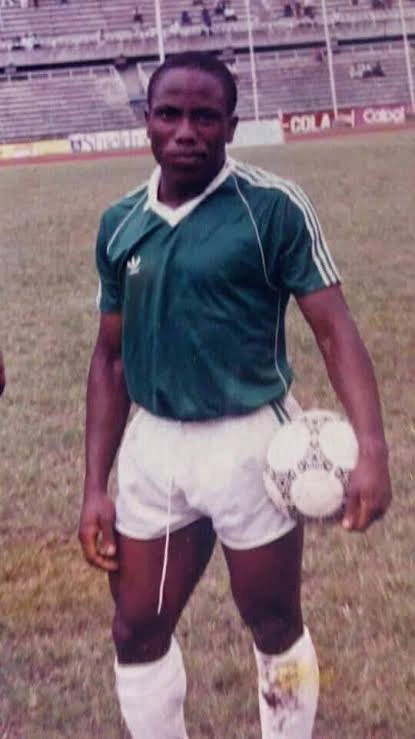 3. Tijani Babangida - Okada
Tijani Babangida earned the nickname 'Okada' due to his explosive bursts down the right flank. He was a menace to full-backs and caused lots of troubles.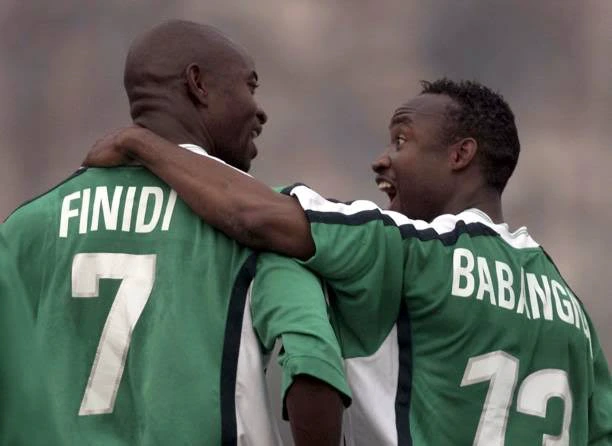 One of such adventures saw his singlehandedly destroyed Trot Moloto's tough-talking South Africa in front of Thabo Mbeki in the semi-finals of the 2000 African Cup of Nations. The winger grabbed a brace. Known for his pace, his playing style was sometimes compared to that of Marc Overmars.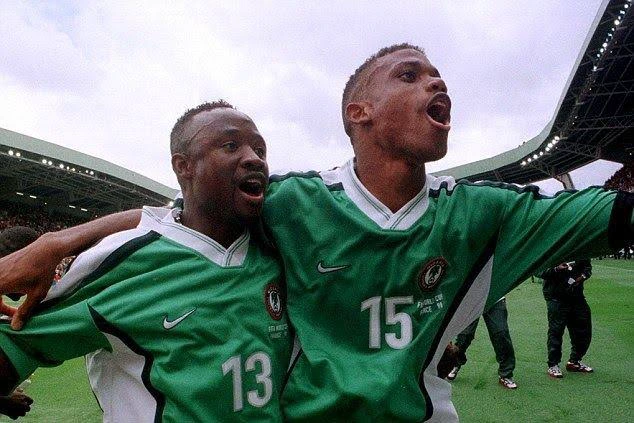 Babangida spent the majority of his playing career at Ajax. Overall, he played in five different countries on three different continents. At club level, Babangida spent nine years in the Netherlands, playing for VVV-Venlo, Roda JC, and Ajax, winning the Eredivisie plus KNVB Cup double with the latter side.
He played over 30 games for his national side, including four at the 1998 World Cup in France. He participated in two Africa Cup of Nations tournaments and won the 1996 Olympics with Nigeria. Babangida made his international debut in 1994.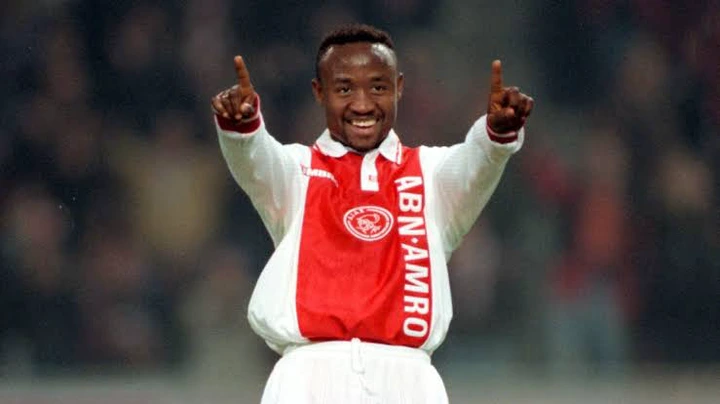 4. Julius Efosa Aghahowa - Agha-Wonder
Julius Efosa Aghahowa gave Nigerians joy during his playing days. He was a striker who gave ever-demanding Nigerian fans joy when they needed him.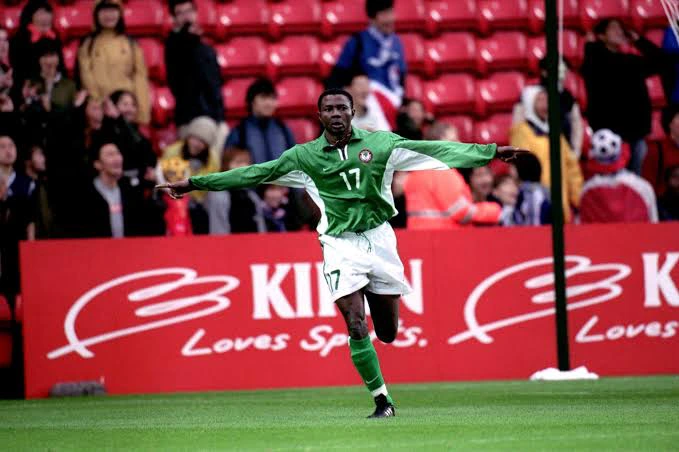 He earned the nickname Agha-Wonder for his wonderful contributions to the battlefield. Agha-Wonder was the Flying Eagles' star at the 1999 FIFA U20 World Cup held in Nigeria. He chipped in important goals and delighted fans with his wonderful backflips.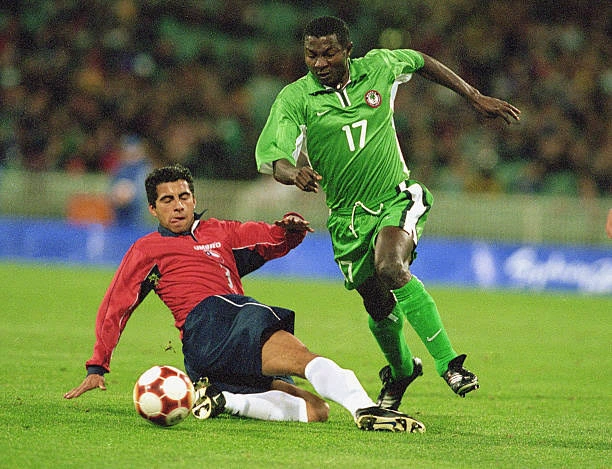 Fast forward to 2000 African Cup of Nations, Aghahowa climbed off the bench to rescue Nigeria from the den of the Lions of Teranga. He netted a brace against Senegal in an explosive quarter-final at the legendary National Stadium Surulere. He was again on song in a semi-final loss to Senegal out muscling Lamine Diatta following a sweet pass from Kanu Nwankwo.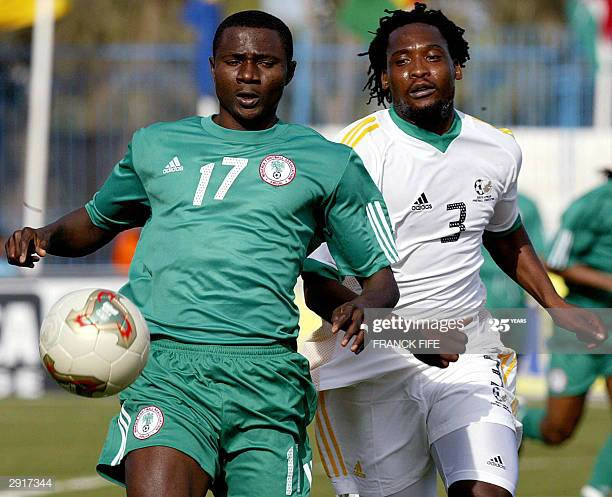 Agha-Wonder also scored a wonderful header for Nigeria. Julius Aghahowa played 32 matches for the Nigerian national team "Super Eagles" and scored 14 goals. He played for Bendel Insurance, Espérance, Shakhtar Donetsk, Wigan Athletic, Kayserispor, and Sevastopol.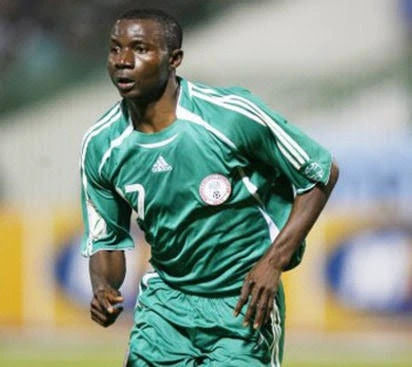 5. Uche Okechukwu - Gentle Giant
Uche Okechukwu remains one of the best defenders to have played for Nigeria. He was a dedicated professional with a positive mindset. His physique made strikers have a sense of Phobia.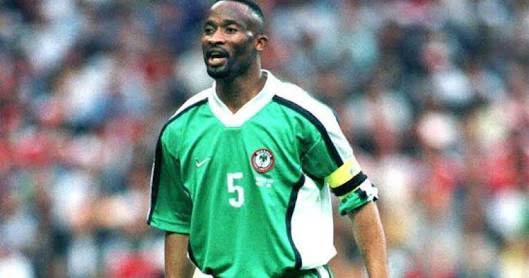 He was ruthless and uncompromising like the Elephant. Okechukwu was nicknamed Gentle Giant for his calculative approach at central defense. Okechukwu played for Iwuanyawu Nationale (Now Heartland FC), Brøndby, Fenerbahçe, Istanbulspor, Ocean Boys before he retired at Bayelsa United. He made 47 appearances for the Super Eagles between 1990 and 1998 and contributed 3 goals.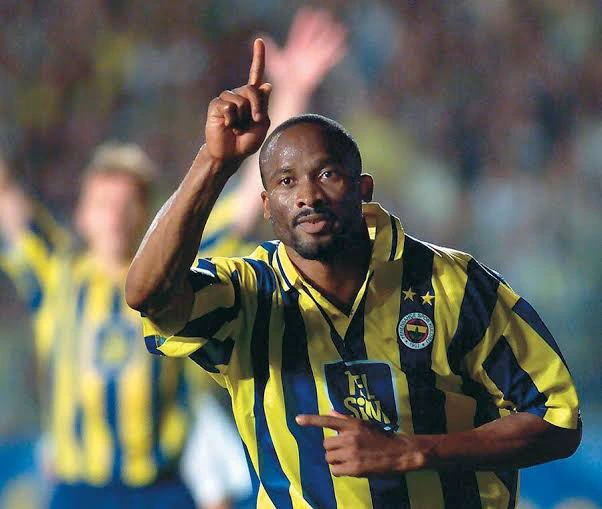 He was part of the 1994 African Cup of Nations winning team and 1996 Olympic Games Gold winning team. He also made two FIFA World Cup appearances in 1994 and 1998. He was in the starting lineup the night that Fenerbahce ended Manchester United's 40-year unbeaten European home record at Old Trafford in 1996.